Find Certified Used Cars in Pakistan
Buy & Sell Cars
Buy Used Car
Now you can drive Suzuki Certified used car that is free from every hassle and inspected by Pak Suzuki engineers on 130 checkpoints and provides a peace of mind for customers buying used cars.
Certified by Pak Suzuki engineers
Genuineness of Suzuki Certified Used car documents
Up to 1 year warranty
3 free services
Evaluation on 130 checkpoints

Best price for your used car

Immediate Payment

Priority delivery of vehicle in exchange

Exchange opportunity with Suzuki new/ certified used car by just paying the difference

Proper transfer of documents (your used car sold only after transfer of documents)

Your car is in safe hands

No Hidden charges

No middle men, No commission

Fair and transparent deals at Suzuki Authorized dealerships

EXCHANGE PROGRAM
Suzuki exchange program provides the most convenient way to upgrade from your old car to a New Suzuki by just paying the difference. Whereas
you can also exchange your old car from Suzuki certified used car.
Bring your old car to any Suzuki 3s dealership and avail this best offer by Pak Suzuki.
Best price of your used car
Priority delivery in exchange
Exchange opportunity with Suzuki new / certified used car by just paying the price
Authorized Dealers
Used Car Finance
Suzuki Used Car Finance is the easiest way of getting your car financed. The Program is exclusively available at Pak Suzuki authorized dealerships. The program offers attractive features along with unmatched benefits as compared to any other Auto finance program:
Best Competitive & Affordable rate
No Hidden charges
Transparent Deals
Minimum Down Payment



Disclaimer:

This is an approximate EMI, and Final installment plan will be shared by the dealership.
News and Events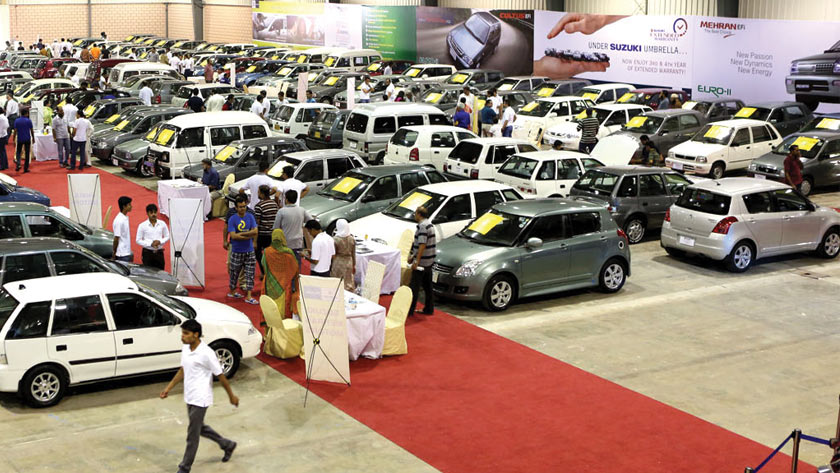 As Pak Suzuki is the No.1 manufacturer and marketer of Brand new local assembled and imported Suzuki vehicles; we strive to enhance motorization by providing good quality; affordable certified used cars to customers as well.
Keeping up with its tradition of making its authorized dealerships as innovative One Window Solution providers to meet the diversified needs of all customers; Pak Suzuki introduced the Certified Used Car Program and exchange program in 2011.
The main idea behind launching the program is to enable people who fall short of affording brand new cars, by providing them an opportunity to buy good quality and reasonably priced used cars which are certified by Pak Suzuki Engineers along with a warranty.
Further; the exchange program is designed keeping in mind that customers can come to Pak Suzuki dealership; get the value of their car evaluated and if mutually agreed can upgrade to brand new car or new model certified used cars; by just paying the difference and Upgrade his lifestyle!
Suzuki certified used car and Exchange facility is available at most authorized Pak Suzuki dealerships nationwide.
However; to reach nationwide customers and providing choices to customers under one roof; Pak Suzuki came up with the idea of Suzuki-certified used car events; started in Feb 2012.
Pak Suzuki arranges Used Car GALA events quarterly/bi-annually in Karachi, Lahore, Rawalpindi, and Multan which has revolutionized the used car buying experience in Pakistan.
In gala events, a large number of certified used cars bought /in exchange by our authorized dealerships; backed up by Pak Suzuki Certification and Warranty are sold to customers.
In the last Gala held on April 2, 2017, at Expo Center Karachi; out of 186 certified used cars; 136 cars were sold on-spot in one day, which is a testament to the fact that Suzuki certified used cars are quality vehicles and customers truly trust and have confidence in Suzuki certified used cars.
In 2016, in 3 events held in the Karachi expo center; 100+ units were sold; respectively in each event.
Al hum do lillah; we continuously research the reason for this huge customers' confidence resulting in the mega-successful event, and based on our research results; we see that the following factors have contributed to Suzuki Used Car Gala's huge success.
Transparency: All Certified Used cars have Tags displayed on their windscreen mentioning:

Price
Model
Registration Year
Mileage driven
Pak Suzuki Used car Warranty ( i.e up to 6 months / driven up to 7,500 km) for Models 3 to 5 years old and ii. up to 1 year / driven up to 15,000 km) for models up to 2 years old models.
Certification and Warranty:

All certified used cars are evaluated by dealership-trained personnel and then checked by Pak Suzuki engineers.
One Window Solution Event: Suzuki Finance and Insurance facilities

Besides buying Suzuki certified used cars; Pak Suzuki Suzuki Finance arrangement partner banks are also present at the venue to provide installment details to customers. Besides conventional auto financing; customers can also determine Islamic auto financing options from Islamic banks to finance certified used cars; there and then.
Suzuki Insurance arrangement program companies also offer insurance coverage on-spot so that when you take your vehicle out of the venue; you are already covered.
Special premium rates are offered at the venue.
Suzuki Genuine Parts; Suzuki Genuine Oil and accessories are also available at special prices for customers.
Test Drive events for new vehicles also available at the venue.
Customers can also witness a display of Suzuki bikes and avail attractive monthly installment packages on spot,
Family Environment

Since we believe that family has a major influence on purchase decision of car and family is an inspiration for lifestyle upgrade; the whole event is planned to keep in mind environment that is family-oriented. We are proud to mention that 75% of our Gala event customers are families,
Customer matters

We ensure that in every Gala event; customer's comments are duly incorporated to make future events even better.
Frequently Asked Questions